Your order will be delivered by TNT who have an on-time performance of 99%
We can deliver your order to your home address, your business or any other address you'd like.
Your order will be delivered by our preferred partners TNT. They publish on-time performance of 99%.
From Standard to Premium Timed Services
We offer a range of delivery services from Standard Delivery at just £4.99. We also offer faster services including 'Premium before 9am' depending on service availability to your delivery address.
We charge delivery based on the total weight of your order, so the more you order, the cheaper each item gets. We'll show you the delivery price of any item when you view it or add it to your basket.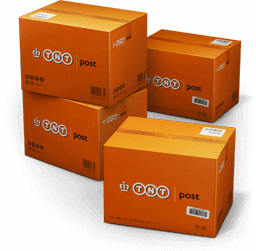 Delivery Promise
If you order 2 or more items, we may despatch each as soon as it's ready. Don't worry though, we'll only charge you for delivery once.
If you'd like your order delivered to more than one address, please contact us for a quote.